Truth and Reconciliation Week
September 25 – 30, 2023
Reconciliation Starts with Education
Learning and commemorating the truth of our history from First Nations, Métis, and Inuit knowledge keepers is an important part on the path of reconciliation. To assist teachers, we're offering Honouring Survivors, a week-long educational program open to all schools across Canada, that supports education curriculums, is age appropriate and free to grades K–12. Join us for an immersive experience to UN-learn the myths of colonial history in Canada.
Free Virtual Educational Program for Grades K-12
Daily programming features live and pre-recorded materials, as well as engaging classroom activities for continuous education. Students will learn directly from residential school Survivors, Indigenous artists, athletes, and other subject matter experts. Topics will include the gifts Indigenous Peoples bring to the world, language, culture, the history of residential schools, and how learners and educators can take action towards reconciliation.
Enhanced Classroom Engagement – New this Year!
To create more opportunities for classroom engagement, this year classes are invited to share their thoughts live on camera at the start of each session. To take part, teachers must fill out a short application. Once approved, classes will pick their top 3 live session options to schedule convenient times. Apply by Sept. 8, 2023!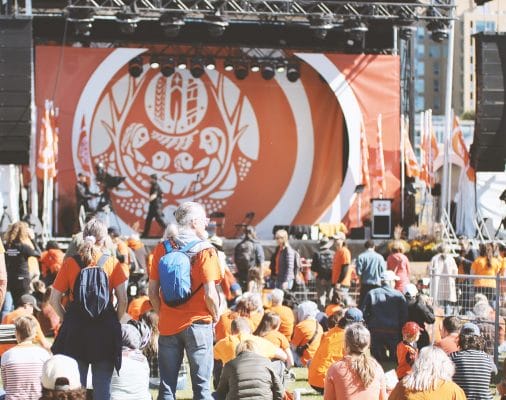 September 30th – Join us in person on Parliament Hill or tune into the live national broadcast
Remembering the Children commemorates the National Day for Truth and Reconciliation and Orange Shirt Day. Join us in-person at noon EDT on Parliament Hill, in Ottawa (West Block lawn), as we memorialize the children lost to the residential school system and honour Survivors and their families.
Can't make it in person? The live National broadcast will begin at 1pm EDT on APTN and other supporting broadcasters. 
Need additional information? Contact: trw@umanitoba.ca
We gratefully acknowledge and thank our generous sponsors:

NCTR's spirit name – bezhig miigwan, meaning "one feather".
Bezhig miigwan calls upon us to see each Survivor coming to the NCTR as a single eagle feather and to show those Survivors the same respect and attention an eagle feather deserves. It also teaches we are all in this together — we are all one, connected, and it is vital to work together to achieve reconciliation.