Residential School Timeline
1831
Mohawk Indian Residential School opens in Brantford, Ontario.
Year
1876
1876
The Indian Act is enacted giving Government the exclusive right to create legislation regarding Indians and Indian lands. This Act identifies who is an Indian and establishes related legal rights.
1883
Sir John A. Macdonald authorizes the creation of residential schools in the Canadian West. Sir Hector Langevin, Secretary of State for the Provinces tells Parliament:
"In order to educate the children properly we must separate them from their families. Some people may say this is hard, but if we want to civilize them we must do that."
Year
Year
1885
Amendment to the Indian Act – traditional Indian ceremonies, such as potlatches and the Sun Dance, are prohibited.
1907
Medical Inspector for Indian Affairs, Dr. P.H. Bryce, reports that health conditions in residential schools are a "national crime."
Year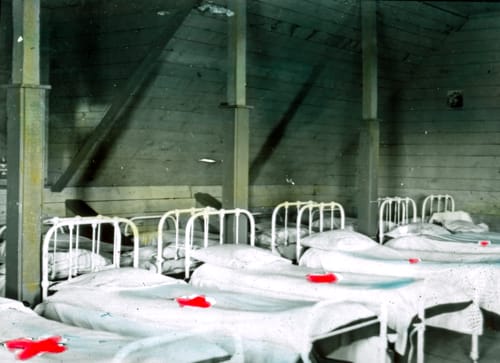 Year
1920
Duncan Campbell Scott, Deputy Superintendent of Indian Affairs, makes residential school attendance compulsory for children between the ages of 7 and 15.
1951
Major revisions are made to the Indian Act – women are allowed to participate in band democracy, prohibitions on traditional Aboriginal practices and ceremonies are removed.
Year
Year
1958
Indian Affairs regional inspectors recommend the abolition of residential schools
1961
Amendment to the Indian Act – Status Indians can vote without having to give up their status.
Year
Year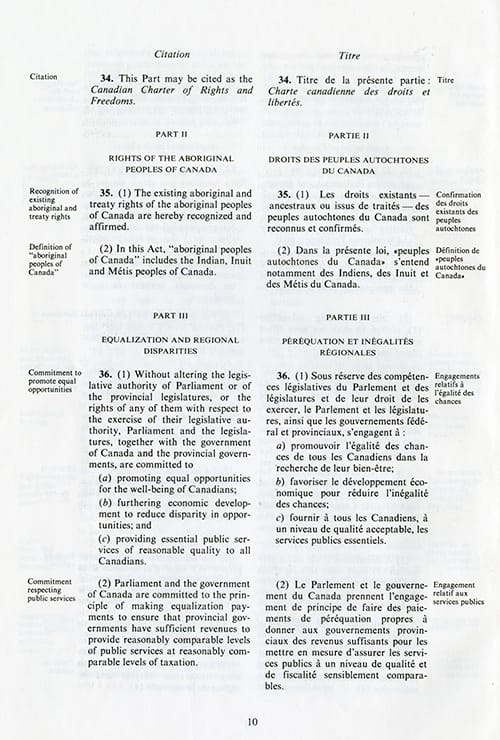 1982
The Constitution Act is amended and now recognizes and affirms the rights of "Indian, Inuit, and Métis peoples of Canada."
1986-1994
The United Church, the Catholic Missionary Oblates of Mary Immaculate, the Anglican Church, and the Presbyterian Church all issue formal apologies for their participation in the residential school system.
Year
Year
1996
The Final Report of the Royal Commission on Aboriginal Peoples is released. It calls for a public inquiry into the effects of residential schools on generations of Aboriginal peoples.
1996-1998
Class action law suits begin to appear, including those headed by Willie Blackwater and Nora Bernard.
Year
Year
2005
Assembly of First Nations National Chief Phil Fontaine announces a class action lawsuit against the Government of Canada over the legacy of the residential schools.
2008
Prime Minister Stephen Harper apologizes to First Nations, Inuit and Métis for the residential school system. Image credit – The Canadian Press: Fred Chartrand
Year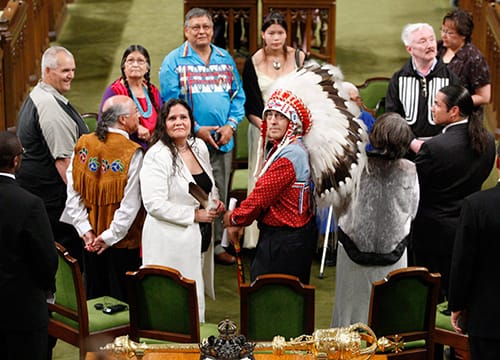 Year
2009
As part of the Indian Residential School Settlement Agreement (IRSSA), the Truth and Reconciliation Commission (TRC) is launched and hosts events all across the country to listen to Canadians who want to share their residential school stories.
2010
First TRC National Event held in Winnipeg Manitoba.
Year
2013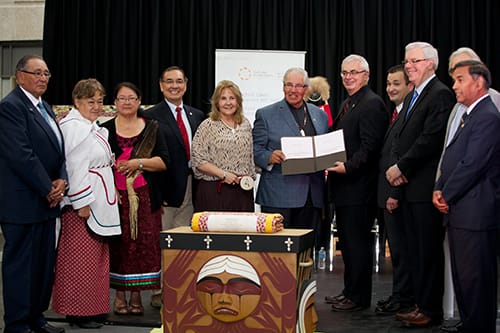 2013
Signing Ceremony officially recognizing the University of Manitoba and its partners as the permanent host of the National Centre for Truth and Reconciliation.
2014
Final TRC National event held in Edmonton Alberta.
Year
Year
2015
Closing Ceremonies of the Truth and Reconciliation Commission.
NCTR's spirit name – bezhig miigwan, meaning "one feather".
Bezhig miigwan calls upon us to see each Survivor coming to the NCTR as a single eagle feather and to show those Survivors the same respect and attention an eagle feather deserves. It also teaches we are all in this together — we are all one, connected, and it is vital to work together to achieve reconciliation.