Phyllis Googoo, Survivor Circle member 2019-2021
The National Centre for Truth and Reconciliation (NCTR) sends prayers and extends deepest condolences on the passing of Phyllis Googoo to her family, friends and Nation. Elder Googoo was a member of the Waycobah First Nation in Nova Scotia. She was a mother grandmother, and great-mother.
A Survivor of the Indian Residential School in Shubenacadie, Phyllis endured and witnessed unimaginable trauma for 10 long years. Despite the pain and adversity, she clung to her language, nurturing it in secret. She quietly and gently fought for her own healing, her family's healing, and the healing of an entire nation.
This battle to preserve her language and the trauma she witnessed, proved to be formative for Phyllis, leading her to become a mother who prioritized speaking the Mi'kmaw language at home with her children, an educator, and an advocate who fought to revitalize the Mi'kmaw language through innovative resource and curriculum development, advocacy at both regional and national levels, and through her experience as a Mi'kmaw teacher.
Her fight for reconciliation took her to all corners of the world, taking on major roles in the Indian Residential School class action suits as well as the Truth and Reconciliation Commission. These roles in advocacy and education brought Phyllis to being a AFN Regional Elder, member of the Nova Scotia Native Women's Association, to being a core member of the Mi'kmawey Debert Elder Advisory Council, MK Language Advisory Committee, The National Centre for Truth and Reconciliation Elders Advisory Council, to many others that not only influenced Policy, Programming, and Curriculum; Phyllis also actively promoted the Mi'kmaw Language through her drum group, We'koqma'qewiskwa who have performed the Mi'kmaw Honour Song at many community events throughout the years.
In 2008, Elder Googoo received the Grand Chief Donald Marshall Sr. Elder Achievement Award recognizing her lifelong contribution to the Mi'kmaw community. She leaves behind an important and lasting legacy for her family and community – may she rest peacefully with her ancestors and the Creator.
Sarah Peryouar, Survivor Circle member 2019-2020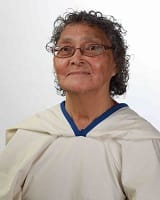 The National Centre for Truth and Reconciliation (NCTR) offers our sincere condolences on the passing of Sarah Peryouar to her family, friends and community.
With heavy hearts we hope you travel well, as we find solace in knowing you are now with our ancestors.
When Sarah joined the Survivors Circle in the summer of 2019 she was an integral addition. Sarah had resided in Baker Lake NU, in the Kivalliq region and a Residential School Survivor from Baker Lake, NU and Churchill, MB.
She travelled south with the desire to support other Survivors with their healing journeys and be the Inuk voice. We felt her passion and although she wasn't always comfortable, she made her presence and culture known.
She had spoken to her family about the important discussions on healing and Reconciliation and the camaraderie she had connecting with the other Survivors.
She believed in the healing power of sharing one's story. She spoke to the Truth and Reconciliation Commission to say her piece and it started her healing process. She felt like she could have liaised between the northern Survivors and help provide supports to aid them along their own healing journeys.
We will miss her with all our hearts, her quietness was never seen as weakness but thoughtfulness in speaking her truth.
She was passionate about teaching and worked as an educator in Baker Lake for most of her life after attaining her Teachers Certificate in 1993 from McGill University and Nunavut Arctic College. She believed in keeping the Inuktitut language and culture alive.
She had served on several committees to support her community and fellow Survivors. She was on several boards, such as Abluqta Society, Nunavut Senior Society, Sanavik Co-operative Limited, District Education Authority, Tikihaijit Committee, Baker Lake Housing Association and was the Chair Person of the Qilautimiut Elder's Committee.
We are reassured by our traditional beliefs that the Creator took Sarah to ease her suffering. Travel well dear Sarah.
NCTR's spirit name – bezhig miigwan, meaning "one feather".
Bezhig miigwan calls upon us to see each Survivor coming to the NCTR as a single eagle feather and to show those Survivors the same respect and attention an eagle feather deserves. It also teaches we are all in this together — we are all one, connected, and it is vital to work together to achieve reconciliation.